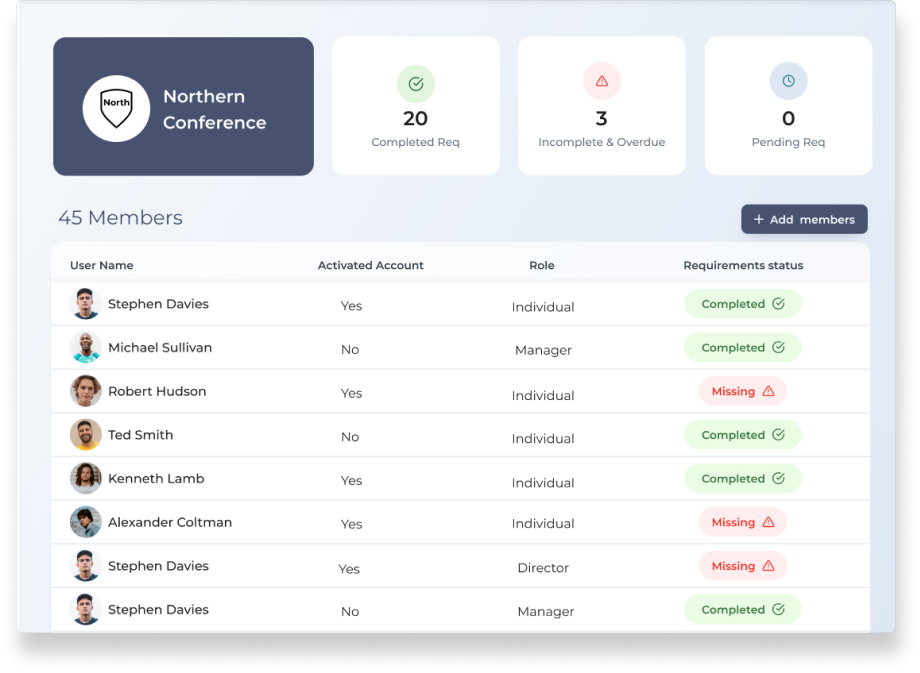 We're Here to Make Compliance Easy at No Cost to You
So how does Ankored make money?
We earn commissions from the integrated services on our platform such as background check, complete abuse prevention training, collect payments or other paid service.
Our goal is make it super easy to track, complete, and preserve all these requirements in a single unified place.
$0 Monthly Subscription Fee*

Unlimited people: Directors, Coaches, Volunteers, Staff and more.

Unlimited Number of Programs

Customized payments- decide who pays for each service your organization or the individual

Unlimited Custom Waivers, Forms, and Requirements

Organization & hierarchical tools to configure your account to match the real world
Ability to customize requirements for different roles

Pick, assign and track completion of all compliance requirements for everyone in your organization or across programs
Reporting, data and export tools

Persistent profiles so users never have to complete the same requirement twice
Permissions system so certain tasks can stay with certain roles

Integrated services all in one place

National Background Checks ($25)

Canadian Background Checks ($50)

Sexual Abuse Awareness Training ($10)

Registration & Payments (3.85% +$1.25)

Plenty more.
*Although we do not charge a monthly or annual subscription fee, we do require that you use our integrated services and systems including background checks, abuse prevention training, and payments.
We ask for a credit card upon registration to validate your account and will only use it in the event you incur fees from our integrated services. You will not be charged anything at sign up.
Running a large organization?
Reach out to us to talk about volume pricing!